Discover the beauty of Andaman and Nicobar Islands with our guide to the top tourist destinations. From beaches to national parks, these are the must-see places on your next trip.
Andaman and Nicobar Islands is a group of islands located in the Bay of Bengal, known for its beautiful beaches, lush green forests, and diverse marine life. The islands are a popular tourist destination, attracting visitors from all over the world and it's natural beauty and rich cultural heritage.
Here are some of the top tourist places in Andaman and Nicobar Islands that should not be missed on your next trip.
Cellular Jail National Memorial
Cellular Jail, also known as Kala Pani, is a historic prison located in Port Blair. The prison was built by the British during the colonial era and was used to imprison political prisoners. Today, it serves as a national memorial, where visitors can learn about the history of the prison. Also, see the struggle for Indian independence.
Ross Island
Ross Island is a small island located in the Andaman Sea, just a short boat ride from Port Blair. The island was once the administrative headquarters of the British in the Andaman and Nicobar Islands, and today it is a popular tourist destination. Visitors can explore the ruins of the British buildings, including the chief commissioner's residence and the church, and learn about the island's history.
Havelock Island
Havelock Island is one of the most beautiful islands in the Andaman and Nicobar Islands, known for its white sandy beaches and crystal-clear waters. The island is popular among tourists for its water sports, including snorkeling, scuba diving, and sea-walking. The most famous beach is Radhanagar beach which is known as the best beach in Asia.
Neil Island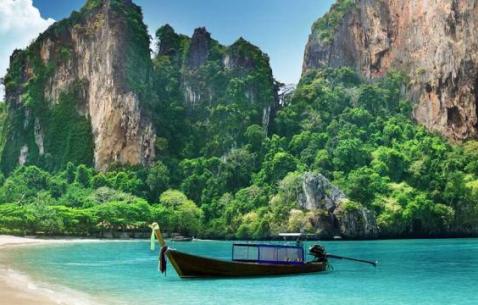 Neil Island is another beautiful island located in the Andaman Sea. The island is known for its tropical forests, beaches, and coral reefs. Visitors can explore the island's forests on foot or by bicycle, or take a dip in the crystal-clear waters of the island's beaches.
Baratang Island
Baratang Island is located in the middle of Andaman, known for its limestone caves, mud volcanoes, and mangrove forests. The island is a popular destination for nature lovers and adventure seekers. Visitors can take a boat ride through the mangrove forests go caving in the limestone caves, and witness the unique mud volcanoes.
In conclusion, Andaman and Nicobar Islands is a must-visit destinations for those who love nature and adventure. There are many beautiful places to explore, from historic sites to beaches, forests, and marine life. Each place has its own unique charm and beauty that will leave you mesmerized. So, pack your bags and book your trip to Andaman and Nicobar Islands for an unforgettable vacation experience.