I am here to share my Idaho Experience often saddened and discouraged by the harm that people so freely do to others. I am baffled by the assumption that one way of life is the only way to live. And that those who hold such views feel it is their right to impose them on others, sometimes with hatred and abuse.
So, I have also seen the opposite at play in my travels. I have seen communities and governments stand up against discrimination, oppression and hatred. This is most evident in societies that have faced major atrocities.
Idaho Experience: These efforts give me hope
Each of the museums mentioned in the following posts (not my typical focus when I travel) works together to educate and issue warnings about how societies suffer from hate.
And now there's this post on Coeur d'Alene, Idaho and the Human Rights Education Institute. But the work of the Institute is quite different.
Coeur d'Alene, Idaho and human rights
The difference between the museums mentioned in the above posts and the Institute for Human Rights Education in Coeurs d'Alene is that the museums were uncovering history and warning of what might happen, while the Institute deals with the present.
Coeur d'Alene and Idaho in general have a complicated history with Aryan peoples and subversive militias. According to the Southern Poverty Law Center, there are currently six hate groups operating in the state. In 2000, the same organization won a $6.3 million judgment against the Aryan Nations. This bankrupted Richard Butler, the Idaho-based leader of the organization.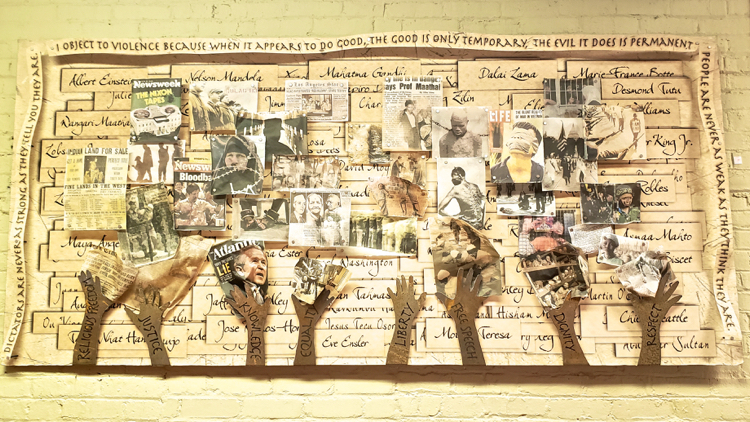 However, this does not mean that racist, anti-Semitic, anti-LGBTQ and other hateful activities have been dampened. According to one local, the state is attracting those who hold extreme right-wing positions, while also worrying moderate locals, some of whom have decided to leave. Before they managed to riot downtown at the same time as the city's Pride event. Those arrested came from at least 11 states.
This situation makes the work of the Institute of Human Rights Education all the more demanding and, in my opinion, all the more deserving of respect. According to their website, "The Human Rights Education Institute offers proactive educational programs that teach human rights, acceptance, respect for diversity, and cultural humility. Our programs, activities and events strive to reduce racial prejudice and increase understanding in our community."
In talking to the executive director, I learned that, aside from the programs, most of their work is devoted to creating a dialogue between opposing groups. While I had some knowledge of Idaho history, visiting the Institute encouraged me and reinforced how travel gives me hope.
Love lives here: Traveling gives me hope
Outside the Human Rights Education Institute, a sign reads: Love lives here #LOVELIVESHERECDA. I had to check what the letters "CDA" on the sign meant. It was Coeur d'Alene.
From this website: "We are here to raise community awareness of the hate group organizations that are infiltrating our area. And spreading discriminatory messages. By educating our business community and our community at large about these groups and providing our community with the tools needed to report any incidents. We hope to build a culture of inclusivity and safety to strengthen our economy and overall reputation. Our goal is to share a positive message with the world."
While the Institute works in the education system, it works with groups like Love Lives Here. It brings messages and tools of inclusivity to the entire community.
Idaho Experience: Things to see and do in Coeur d'Alene
Coureurs de bois, French hunters and traders, gave the name Coeur d'Alene to the native people of the Idaho area. Coeur means heart. Alene means awl. Together, the name means Heart of Awl, referring to the native people's naturally astute business skills. Also, check out more blogs in the fashion and health section. Gather more information at budgetyourtrip.